A sporty take on Workshops?
Stud Galloper has developed a training method in which you as an individual, team or organization work together with Friesian horses. Development and growth as individuals and as a team are key here. The goal of the workshop is to become aware of your own behavior and your role in your organization or team. By working with our Friesian horses, we gain insight into questions such as; Why do I do what I do? Why do I do it, like i do?
By working with horses you will gain insight through a totally new method; dilemmas, paradoxes in e.g. communication, cooperation, leadership and especially your own behavior. Horses mirror people's drives and this makes horses an ideal mirror, even if you feel you are just a little different.
Our workshops are characterized by:
Goal-oriented work
Being result-oriented
Experienced hands-on coaches from the business world
Combination of 'being serious' and relaxation
Informal atmosphere
No nonsense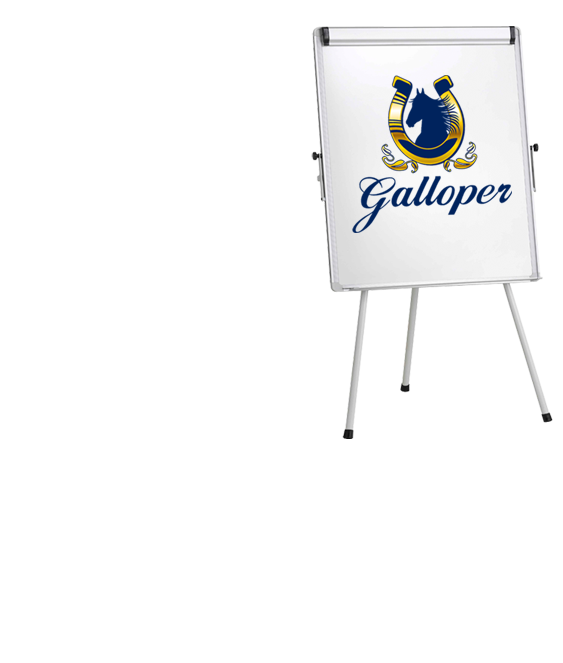 A sporting outlook for 'Leadership'
The word leadership includes the word lead.
As a leader, we will introduce you to the differences and similarities between leading employees and horses. In this workshop, under the guidance of experienced coaches, you will be put to work both practically and theoretically. The goal is to gain insight into your role and position as a leader and the effect on your team.
Characteristics:
Target audience: executives
Duration: Day or Part of Day
Group: Max. 8 participants
A sporting outlook for 'Sales'
Can dealing with horse sales be stimulating?
With the workshop "An Athletic View of Sales," we introduce you as a student or sales team to the link between horses and "sales. With theory and practice, aspects such as; baggage, motivation and self-confidence will further "put you on edge.
Characteristics:
Target audience: sales/sales personnel
Duration: Day or Part of Day
Group: Max. 8 participants
A sporting take on 'Friesian horses'
In the workshop "A Sporting Look at Friesian Horses," participants will be taken into the world of the Friesian horse in all its facets. Starting from origin to present status. We will introduce you to the habitat of the horses in our Stud and you will have the opportunity to work with Friesian horses.
Characteristics:
Target group: everyone
Duration: Day part
Group: Approximately 10-12 participants
A sporting look on 'Customisation'
As the client, you determine in advance with Stud Galloper,
What the purpose and topic of the workshop is. A workshop "customised" in a flexible environment, where there is plenty of space and opportunities for theory and practice.
Characteristics:
Target group: In accordance
Duration: To be determined
Group: In accordance